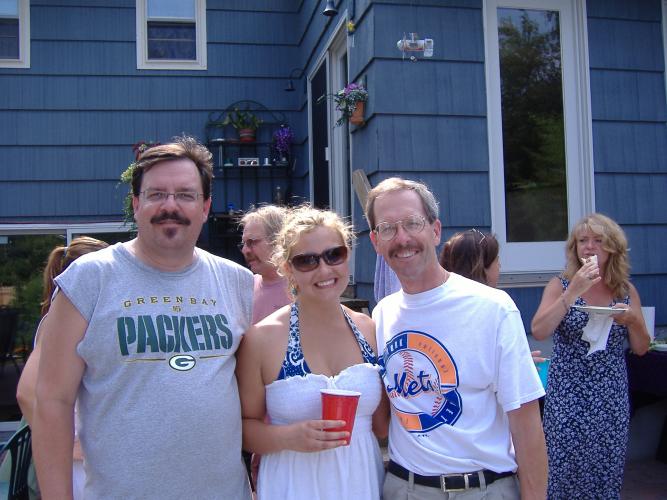 As many of you know, we had a gathering yesterday. The day consisted of a "Celebration of Life". We celebrated the life of many souls this day. But the overall tone was celebrating the life; Amy held... And I know there were so many wonderful people there, and it was also very hard to be here at the same time. But we all got thru it.. We got thru it based on love, support, memories, joy and sadness. We got thru it watching Amy's two son's playing and laughing. We watched Aidan swimming unassited in his life jacket, with his long crazy hair wet from being splashed. We enjoyed hearing Owen laugh as he bounched up and down on a raft; and then cough, once he drank too much pool water. And we all giggled to hear of Aidan's interesting infatuation with his Uncle Dan's girlfriend, Nico, and the interesting things he'd like to do to her. I know we enjoyed watching Owen's joy in playing with a "new" Woody toy from Toy Story, although his cousin Noah wanted to play with Woody as well, and boy that was a sharing struggle.
But we all know there was one person physcially missing; that was Amy. I missed her joy and laugher, and I know she's be utterly amazed at how far many had traveled to be here yesterday.. She's be amazed to see our Aunt Jill and cousin Josh from Iowa. And how far they had to travel as their plane was cancelled, leaving them stranded in Harrisburg Pa, ensuring they would have to rent a car and drive to NJ. Originally their plane was to arrive in Newark @ 6pm; they didn't reach the house until 3:30am. Amy would be thrilled to see Uncle Timmy who always surprises us with his prescence, even if he awoke 2am the day before, just in order to reach the party from Green Bay, Wis. Amy would be so touched to see her oldest childhood friend Michael Parker, even as he and his new wife are moving across the country in a matter of hrs. Our Aunt Debbi and cousing Ali traveled from Beverly, Ma, from Hartford Ct, to NJ. And my husband Jack drove 5hrs late Friday night and then back again Sat. morning all in order to pick up Amy's husband, Matt, and son's, Aidan & Owen, so that they could feel the love everyone so wanted to give them. And there were so many who went above and beyond to show their love... for us....
Our host, Our father Doug and his fiance Christine opened up their hearts and their home. And I have to say with yesterday's herendous humidity, we were all thrilled their pool was open and the water was cold.
And I know without a doubt, we all were devastated that Amy was not physically with us. But I do know she was with us, yesterday I took out a poem that reflects Amy's new found journey, and as putting it on the table, it miraculously fell and broke. With an awkward giggle, my brother Dan and I realized Amy didn't want it there.. So I put it away.. But she allowed me to keep a picture of her up. Also for the first time since her memorial service I saw a butterly flying around us, not once but several times. And I know that was Amy...
I hope you are all as fortunate as me, to feel Amy with you every day. No matter what are lives hold, the only constant thing we have is Amy, and her everlasting love...........